Haduh haduh haduuuh.. Seharusnya gw udah mereview film-film Perancis itu dari seminggu yang lalu. Tapi apa daya, waktu lowong yang gw punya buat ngeblog pun adanya baru hari ini hehehe. Mari kita review, film-film yang gw tonton bersama Amanda, Ririe, Putri hari Sabtu minggu lalu 😀 Gw nonton sehari sebelum festivalnya berakhir. Jadi yang ada di otak gw pasti bakalan ngantri karena di tiket yang gw beli itu nggak ada nomor seat-nya. Gw dkk langsung ambil ancang-ancang semoga kami dapet tempat duduk yang endang bambang. Dan kami pun berada di barisan pertama antrian 😀 Akhirnya pintu bioskop pun dibuka dan alhamdulillah kami duduk di tempat yang endang bambang 😀 
Film pertama yang gw tonton adalah Vertige (High Lane).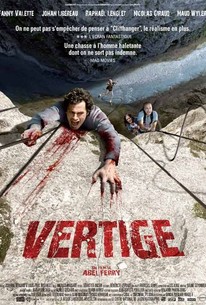 I had no idea when I heard the title, but some said it's some kind of adventure thriller. Tapi ternyata memang nggak jauh dari itu. Bercerita tentang 5 orang anak muda yang bersahabat; Chloe, Lois, Guillaume, Fred, Karine. 5 orang ini sedang melakukan perjalanan ke sekitar pegunungan di Kroasia, dan akan melakukan pendakian. Ketika sampai di tempat permulaan pendakian, Fred meyakinkan semua teman-temannya kalo jalur yang diambil mereka adalah benar. Pendakian awal berjalan lancar, sampai hari semakin siang, pendakian berubah menjadi mimpi buruk. Jembatan kayu tua yang merupakan penghubung dari tebing satu ke tebing yang lain, tiba-tiba putus karena menahan beban yang (mungkin) berlebihan. Dan Karine hampir jatuh ke dalam jurang. Dan itu merupakan pertanda yang tidak baik bagi perjalanan selanjutnya. Kejadian-kejadian menyeramkan terjadi setelahnya, dari hilangnya Fred setelah kena perangkap pemburu gelap, jatuhnya Chloe ke jebakan bawah tanah dan melukai tangan kirinya, dibunuhnya Karine dan menghilang di tengah hutan, sampai akhirnya bertemu dengan sosok kunci yang memberikan jawaban atas kejadian-kejadian menyeramkan yang telah terjadi.
Mau tau cerita lengkapnya? Kayaknya lebih enak nonton sendiri. Gw pribadi suka banget sama film ini, biarpun selama film ini berlangsung gw nggak berenti teriak-teriak :D. Setting filmnya yang katanya di Kroasia bikin gw inget sama film Twilight, hutan-hutan dengan pohon pinus yang besar-besar. Dan ending film ini bikin gw gregetan setengah mati. Kesel sebel tapi penasaran hehehe. Salah satu pilihan tontonan yang bagus bagi pecinta film thriller. Dan menurut gw, festival film kayak festival sinema Perancis ini mesti sering-sering diadain karena selain pilihan film-nya banyak, kita semua bisa kenal film dari berbagai negara dan nggak terpaku sama film-film box office yang stereotype 😀